Winter Activities
Lake George Winter Activities and Things to Do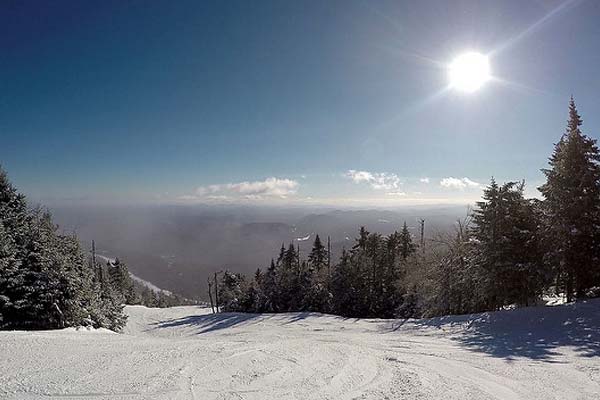 Downhill skiing and snowboarding are two of the quintessential winter activities in our region of Upstate New York. Our resort is conveniently located within driving distance of some incredible mountains and ski resorts. West Mountain, a great mountain for families and beginners, is just 10 minutes southwest of Lake George.  Gore Mountain, 45 minutes north, offers a variety of terrain that skiers can spend all day exploring. Many of Vermont's premier ski mountains are also within a 2-hour drive from the resort.
Cross-country skiing and snowshoeing are fun winter activities for people of all skill and experience levels. The Lake George area is home to different types of trails, from short loops through the woods to large resorts that offer rentals and lessons. Coles Woods, just 10 minutes away, features FREE groomed & lit ski trails, as well as designated snowshoe trails. Garnet Hill Lodge, a 1-hour drive north, offers spectacular views and well-groomed ski trails, plus lessons and rentals. The Warren County Nature Trails, 20 minutes from the resort, range in difficulty from easy to expert.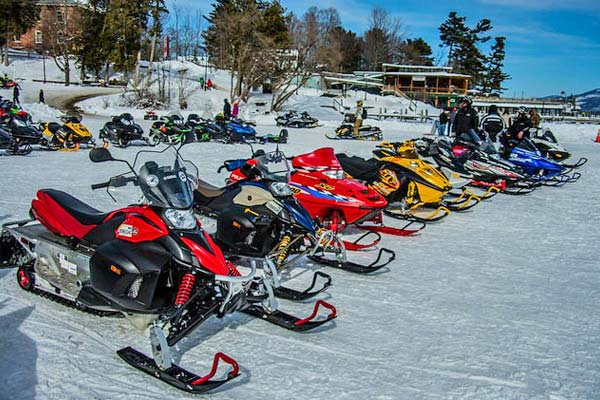 Lake George is home to miles of snowmobile trails that connect to other trail systems throughout the area and into the Adirondacks, giving riders tons of opportunities to explore. When the ice is thick enough, 5 to 7 inches, you can even take a ride across the lake!
If you've never gone snowmobiling before, the area has many reputable guide services that can show you the ropes.
Lake George Village hosts a month-long celebration of winter during this annual family-friendly event! In typical years, the Winter Carnival takes place each weekend throughout February and brings with it a schedule of events like polar plunges, outhouse races, and cooking competitions. Mark your calendar and take part in the fun. Be sure to book your room in advance as weekends in February tend to be very popular!
Lake George has one of the best snow tubing hills at the Lake George Rec Center, just a few minutes away from the resort. If you want to visit other spots in the area that offer rope tows at their tubing hills, try West Mountain or Tubby Tubes.
The Lake George area is home to a diverse assortment of craft breweries, wineries, and distilleries. In fact, Adirondack Brewery is located right across the street from our hotel! Whether you're in the mood for a refreshing pilsner, a dry white wine, or a cocktail made from local spirits, you can quench your thirst and enjoy mouthwatering food options right here.
Indoor Swimming
It doesn't matter what the weather is like, it's always fun to swim indoors.  Fort William Henry is one of the few resorts in the region with a heated indoor pool and Jacuzzi. As both the pool and spa are in the same area, parents can relax in the hot tub while kids play water games in the pool.
Hot Tub at Fort William Henry
Guests relaxing at the indoor pool during the winter months can make use of the hot tub as well. Warm up with deliberately placed hot tub jets, and soak any stress away. You're in Lake George vacation mode now!
Did you know you can rent a fire pit at Fort William Henry? Six fire pits accommodate six guests each, and offer great views of the lake and stars. They're available to rent Thursday through Sunday at 1 hour and 45 minute intervals. You will have a dedicated server, and food options are available such as a s'mores package, charcuterie boards, or a wine tasting.
Shopping
Lake George is a shopper's paradise! From one-of-a-kind stores to factory outlets to antiques dealers, you'll find all sorts of shops to browse through in the area. Lake George Village's vendors sell items like t-shirts and other souvenirs, jewelry, and specialty foods. Head 10 minutes south of the Village and you'll find dozens of factory outlets selling brand name apparel and accessories at discounted prices. During the pandemic, shoppers should be aware that face coverings are required, store capacities are limited, and shoppers should maintain distance from other parties whenever possible.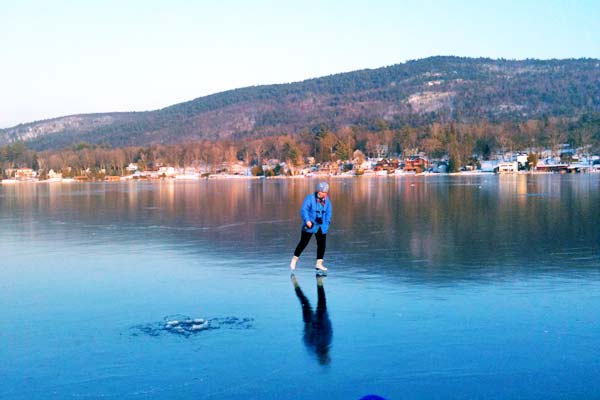 Ice Skating
There's nothing quite like ice skating on the lake in the winter, so don't forget to bring your skates!  When there is black ice, you can see the railroad tracks from when the trains came to get ice for ice boxes (before freezers were invented). Be sure to check with the hotel to make sure the ice on the lake is safe before heading out on it.
Indoor Skating & Family Fun
Lake George family fun doesn't stop in the winter! At The Fun Spot, kids can typically go roller skating, play laser tag, test their luck at arcade games, burn off some energy in the multi-level playground, and hone their skills on the Ninja Challenge Course. As a result of the pandemic, The Fun Spot was limited to outdoor attractions, like mini golf, during the summer, so visitors should call ahead for a status update on the indoor attractions before arriving.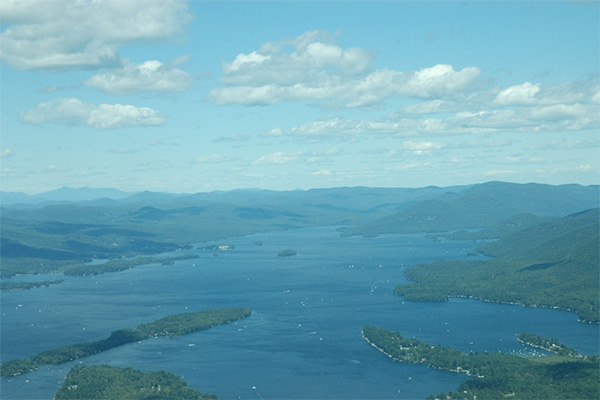 Leaf Air Scenic Flights over Lake George
See Lake George and the Adirondacks like never before. Take an unforgettable one hour scenic flight from the Floyd Bennett Airport in Glens Falls over Lake George. Flights are available year-round. Visit leafair.net for more information and call 518-415-8453 for reservations.
Fort William Henry's Ice Bar
Fort William Henry hosts its very own Ice Bar in February every year. We serve up hot soup, drinks, beer, and cocktails at a full ice bar with sculptures and more. Warm up next to the fire pit or play some fun outdoor games!
Check our Facebook page for updates on our Ice Bar Event. We hope to see you there!
The dates for our 2024 Ice Bar will be announced on our Facebook page.